If you know something clearly isn't feeling right in your relationship, you naturally want things to be different. Yet it can be hard to take the first step when you don't know what to do or where you'll end up.
Choosing to to actually begin the journey, even when it feels like stepping into the unknown, is a powerful statement of your intention to move towards positive change.
I specialise in ALL aspects of relationships and see couples or individuals. I work with communication issues, intimacy/sexual problems and also adult ADHD/ADD and the unique problems it can bring to relationships.
My comfy therapy room in Barnet, Herts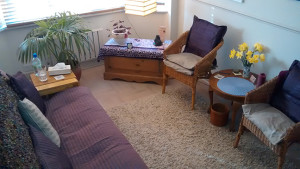 Couples (and individuals) in all types of relationship (or aspiring to be in one) come to my practice, generally because they are feeling disconnected from one another. However, they may not put it that way or even realise it. They tell me about communication problems, having arguments, not spending enough time together, difficulties in trusting each other, not having sex etc. Some of these things are happening for sure, and yet they are not quite the issue. Underneath it all, a painful loss of connection is happening, in which communication, caring and real listening is almost impossible.
I coach and support couples to "encounter" each other, so that they can safely deal with their issues in a positive and deeper way. Through gaining empathy and acceptance of one another, they begin to feel like "a team of two" on an exploratory journey of growing their relationship afresh. It can be exciting but tough at times, and generally, well worth the ride.
This may seem a far cry from where you are at now. That's ok. Wherever you are at in this moment is the starting point we work from, even if only one of you wants to come. Give me a call right now if you are not sure 020 3151 2620
Priya shows a kind, warm and sincere approach to counselling – she always respected and valued our life experiences and how they have shaped the people we have become, whilst also enabling us to challenge and change old patterns of behaviour
Mark & Estelle, musician/nurse
Encounter-based Therapy
You will be supported in your talking and listening to one another about your deepest aspirations, your desires and your difficulties. I will help you to meet each other in these places and to gradually move forwards, at your own pace.
Through the encounter process, you become able to reach a deeper experience of what's really happening in your unique relationship, and a greater ability to create new ways forward into lasting transformation.
This work is at the heart of what it means to be human and in relationship. It's both intensely personal and fundamental to deep happiness. I feel deeply privileged to support couples on their unique journeys.
Priya is an amazing counsellor! She never took sides, never criticised us or made us feel we were in the wrong. What Priya did do was huge: she helped us to understand each other's feelings and create a closeness we thought had been lost.
Clare & Neil. Midwife/Social Worker
Practical information
I am a qualified Holistic Psychotherapist, Accredited with BACP (British Assoc. of Counselling and Psychotherapy), Accredited with COSRT (College of Sexual and Relationship Therapy) and hold an Advanced Diploma in Couples Therapy and a Certificate in Couples Encounter -based Therapy.
My practice is in Barnet, Herts. 5 mins walk from High Barnet tube station and 10 mins from Junction 23 on the M25.
Confidentiality is a vital aspect of our work together. Every session is strictly confidential, in accordance with the BACP Ethical Framework for Good Practice in Counselling and Psychotherapy.
My charge is on a sliding scale: £75-£60 per hour session for couples and individuals. I generally suggest couples have an initial 90 minute session if possible. Skype sessions can also be arranged. An excellent next step after an initial session is a one or two day Couples Intensive…see below.
Give me a call on 020 3151 2620………or email me at priya@intimacyworks.com to book an appointment.
Couples Intensives
Many couples have discovered that, when life is busy and therapy sessions are short, it is hard to build a solid foundation for their newly growing relationship. My recommendation is to have a one or two day intensive with me as early as possible, so that the encounter journey of deeply meeting one another can be laid firmly in place.
Intensives can be on weekdays or weekends and run from 9.30am to 5.30pm with an hour for lunch. The charge is £380 for one day and £750 for 2 days during the week. At weekends, the charge is £400/£800 respectively.
Please call me on 020 3151 2620 to discuss your specific needs.
Intimacy/sexual problems
I specialise in psycho-sexual therapy which enables you to focus on intimacy and sexual difficulties within the context of your relationship. Problems are addressed sensitively by exploring how your sexuality is affected by your past as well as by current emotional issues.
Couples are often given tasks and exercises to practise at home, helping to make positive changes. This work can also be incorporated into encounter-based therapy when appropriate.
Psycho-sexual therapy addresses issues such as:
Insufficient sexual desire
Pain or difficulty with sexual intercourse
Premature ejaculation
Erectile problems
Lack of orgasm
Sexual compulsivity or sexual addiction
I am consistently respectful of your pacing and boundaries. No sexual activity takes place in the therapy room.
Give me a call on 020 3151 2620 or email me at priya@intimacyworks.com to book an appointment.
Relationship Coaching With Priya and Bob
Often Couples find it helpful to work with another couple, so the coaching and support for the individuals as well as the couple is literally doubled.
Our charge is £100 per hour session for couples relationship coaching and we recommend a two hour session initially. Cost £180.
If you would like to discuss this with us give Priya a call initially on 020 3151 2620 or email priya@intimacyworks.com to book an appointment.