…..It's The Way That You Say It"
(PLUS EXERCISES FOR YOUR RELATIONSHIP….further down after photo)
You know, how, in relationships, you can get caught up in who said what and who's right? Know what I mean? It can drive you mad….you get into a wordy argument and then you spend lots of time after it, trying to remember all the words that were said so you make sure you were right and he (or she) was definitely wrong!
It's not that the words are not important at all, of course they are and we love words, especially loving ones…….but they can really be destructive, especially if we try to dissect them too much.
YEP…Bob and I have been known to do this too…..but lately, I'm making a conscious effort not to and it's making a difference.
Very recently, we facilitated our Couples Retreat/Workshop "Learn To Relate More Deeply" within a beautiful setting in Somerset.  As we got nearer the event, we decided a big underlying theme would be: "It's Not What You Say…But The Way That You Say It".
In other words, let's focus less on our words, but more on how we are feeling and being to one another. It's the connection between us, as a couple, that really matters. If one of us is resentful or frustrated, this will show in what we say. So it's best to get that resentment or frustration cleared up and out of the way first. If, on the other hand, we feel mostly love and admiration for our partner, then we may make the odd mistake with our words, because we're human, but there's no need to dwell on that, if the loving connection is in place.
So, here we are, all excited and ready for our couples to arrive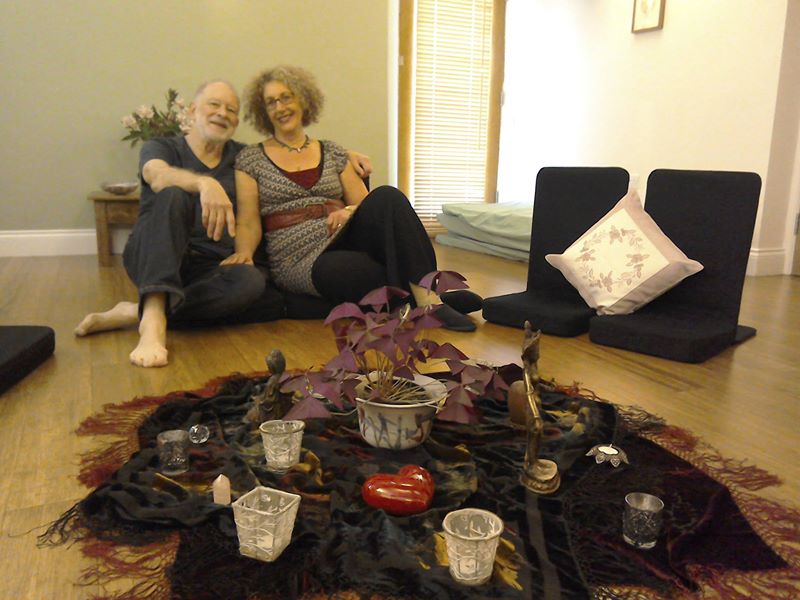 And what a special, heart warming weekend it was….
We created, as always, a mixture of exercises with a tantric flavour and addressing the quality of your loving connection with your partner. One concept we introduced is called
"Our Relational Space"
We all have one, if we are in a relationship. It is the atmosphere of our relationship at any one moment in time and it changes a lot. We are both responsible for it as it belongs to both of us and we need to take care of it as a precious item.
Ideally, it's rather useful to check in now and again and ask one another "How are you experiencing our relational space now? It may be feeling warm and yummy, or cool and distant, or cosy and safe, or just rather ordinary.
Before you begin each of these two exercises, check out together how your relational space is feeling. And tell one another in a few words. Then, if you remember, do the same after the exercise….it's likely to be different!
                                                     =================
EXERCISE:   "Keeping Our Love Alive"
You may like to try this exercise at home. It's popular with our participants.
First, turn off the phones and computers and then settle down together somewhere cosy and comfy. Take a few moments to connect with one another without words….just eye contact and a sense of slowing down and just being together. (this may seem a little unusual, but possibly much needed).
Take turns to ask each other these three questions, allowing about 3 minutes for each question to be answered in varied ways by your partner. And each time you receive an answer say "thankyou" and gently ask the question again.
What currently is good about our love?
What do you do to keep our love alive?
What would you like more of from me to keep our love alive?
Afterwards, you may like to reflect on some of the things you have heard and what is surprising and new. What might you do differently to keep your love alive?
                                                                   ==============
Now, this exercise is about a subject we hardly ever talk about, because we get scared for all sorts of reasons…. 
EXERCISE: "Let's Talk About Sex"
This is a really good way to open up that channel lovingly. Make sure you are feeling close and safe with one another before you do this one. Again, get comfy and cosy. And ask the questions in the same way as described above. Receive your partner's answers with reverence and appreciation. They are being truly vulnerable in doing this with you.
 What do you find difficult to say about sex?
What would you like to ask for in sex?
When making love,when do you feel honoured by me?
 Take time to be close and loving afterwards, with a big heart to heart hug and some gentle sharing in touch (and words if needed).
It would be wonderful to hear from you, if you try these exercises. What kind of experience did you have??? Comments can be left below. Or you can email me personally if you prefer:
priya@intimacyworks.com
==================
So, if you like the flavour of these exercises, just imagine them in a beautiful setting, being guided through them and many more, all about deepening your loving connection…………..a special, unique opportunity…….
Our Next Couples Retreat " Learn To Relate More Deeply"
2-4 OCTOBER 2015 in Somerset.  
Information and booking for Early Bird Couple Ticket: £490 includes workshop, food and accommodation.